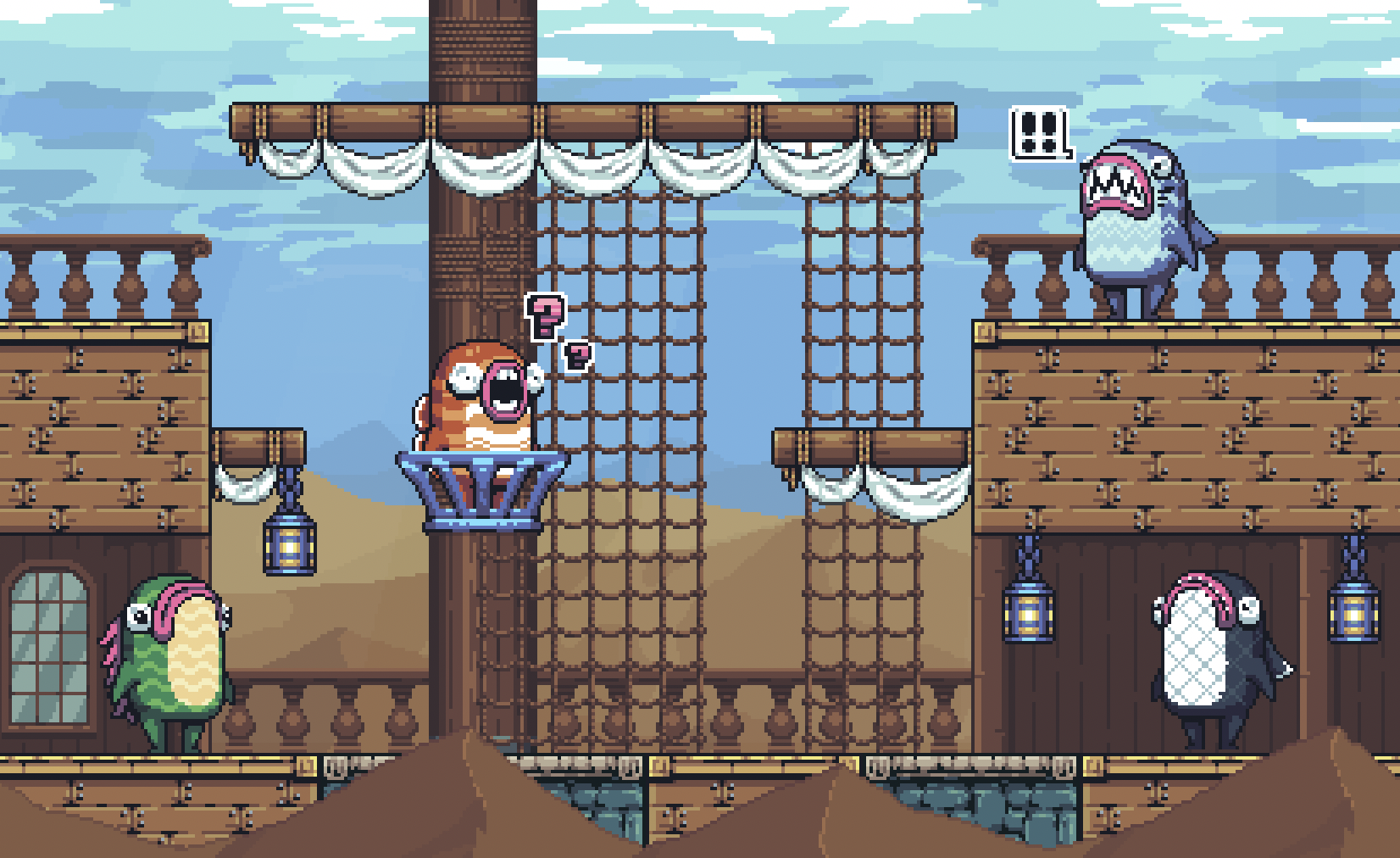 Fish Folk: Jumpy
Fish Fight's past, present and future
---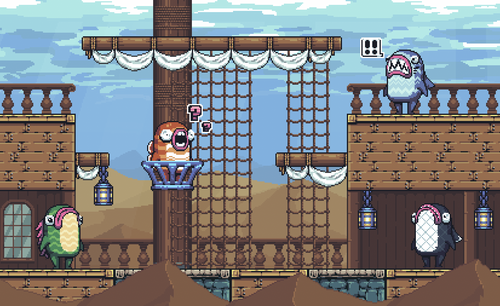 Past
2018-ish: Erlend and Jakob start racking up countless hours of Duck Game couch-play. No game&chill hangout is ever without it from this point onwards. As it gradually dawns on them that Duck Game is no longer actively developed they begin to boastfully proclaim, beer-in-hand: "One of these days we'll make a spiritual sequel to this kick-ass game, and the Legend of the Duck shall live on forever!" 🍻

October 2020: Erlend pitches the concept of a "Fish Game" to Heroic Labs as 'An open reference game (using Nakama for multiplayer)'. They're into it! 🤝
November 2020: A game design document takes shape. 📙

December 2020: Orlando PixelFrog joins the team as our lead artist. Fedor @not-fl3 gets on board to make the Rust (macroquad) version of Fish Game. 🌶 (near-identical prototypes were also made in Unity and Godot.)

January 2021: The first version of our art style is complete. 🐟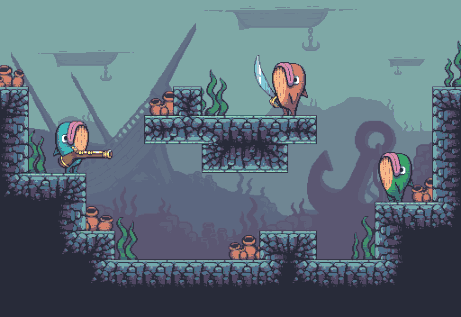 March 2021: Fish Fight (Godot-version) is released and reaches the front page of Hacker News. 🚀

July 2021: With Heroic Lab's blessing, Erlend and Fedor fork Fish Game to continue it as an indie venture, henceforth known as: Fish Fight! 🕊

August 2021: Our very first trailer is released 📺 alongside a release post detailing our ambitions as an open and commercial game project. We also drop a hint about our larger plans for the future:

Aside from just wanting to keep a game archetype we love alive, we also want to demystify the game development industry. That is our larger, overarching mission as practitioners in our craft. We don't buy into the need for excessive secrecy and proprietary ownership in order to make ambitious games. Therefore, we're setting out to make one ambitious game after the other, out in plain sight.

September 2021: The project exits stealth mode and is publicly released as an open source game. We also announce our approach to Open Hiring and $100 internships, which will lead to over a dozen interns contributing to the game within months. 🤗

October 2021: Fedor steps down as Technical Director with an intent to focus on *quads development and his own 'Fish Fight: The Prequel' spinoff, published on Steam. 👋

November 2021: Orlando completes our much-aniticipated art revamp. 🐠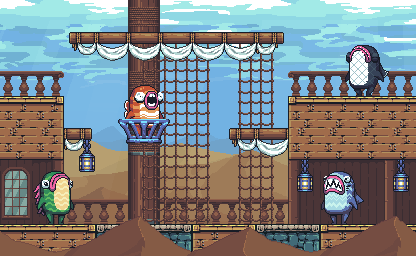 December 2021: v0.3 is released, marking the arrival of our in-game level editor. Alexander @olefasting, having contributed actively since mid-year and single-handedly responsible for the addition of the editor, is our new Technical Director. 🛠

Present
Today we're announcing our partnership with Ultimate Games! They're a fresh startup in the indie space, betting big on browser-based games. Fish Fight has signed a (non-exclusive) platform partnership with Ultimate to be one of their launch titles later this year when their games platform goes public.

Thanks to this little bit of formalization, we now have an official deadline for the v1.0 Stable Release of Fish Fight: July 2022.
We feel very confident about this timeline (jinx!?), as the game is already close to being feature-complete. This month of January our focus will be on making the game run on the Ultimate platform, which means we'll soon be handing out invite links to anyone interested. The remaining months will be all about playtesting & polish.

Future
Now that Fish Fight development has stabilized, it's time to consider what other projects the Spicy Lobster team might take on. The Open Source Games Thesis that guides our development practices and strategy has matched up very well with our predictions for Fish Fight's success. This year we'll be applying that same openness recipe to a small handful of other games.
For instance, how about a Castle Crashers / River City Ransom / Little Fighers-type game, set in the Fish-y-verse? Here's an art demo a LF2 modder threw together for us:

Does that look hype or what!? Imagine these fishies flexing their fins to appear in all sorts of classics, like the best of the Kunio-kun catalogue for instance. It should be fairly obvious at this point where we're headed. If you're into it, our door is always open via Discord, GitHub or Twitter.